Don't forget an extra cold pack.
Get extra cold packs for frequent icing.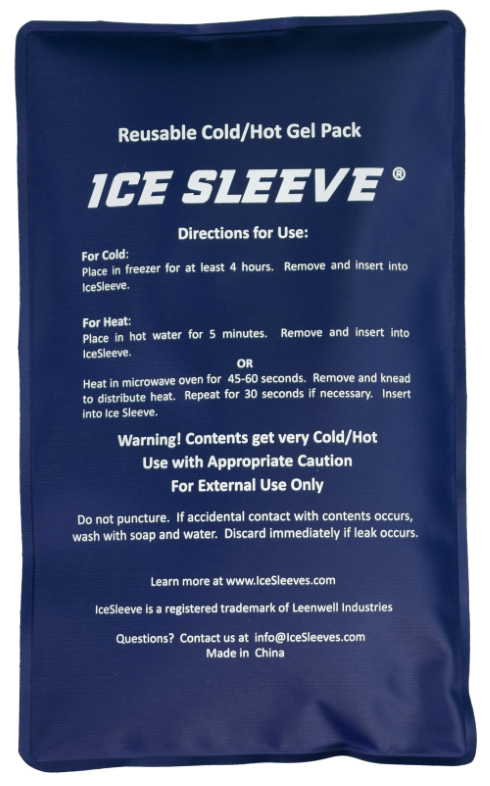 Sized specifically for the Calf/Shin sleeve.
Large Calf or Shin Ice Wrap
Icesleeve
Large Calf or Shin Ice Wrap
5

stars, based on

14

reviews
Relieves Pain from Shin Splints and Effectively Reduces Swelling

Specifically designed to fit the Lower Leg - Will Not Slide

Surrounds your lower leg with Two Cold Packs
Doesn't Restrict Movement - Do Activities Like Normal

Hot or Cold: Packs can be frozen or Microwaved for Hot/Cold Therapy

Fits calves up to 18"
Shin Splint and Swelling Reduction Relief: Do you suffer from recurring shin splints or stress fractures after physical activity or experience swelling or tightness in your calf muscles? The Ice Sleeve Large Calf/Shin Ice Wrap was specifically designed to address swelling reduction and pain relief without sliding off or being difficult to put on like a compression sleeve. Just wrap around your leg and pull it tight. Great for everyday use or sporting-related injuries!
2-Pack Double Coverage: To treat the entire shin and calf area, there are slots to insert ice packs on both sides of your leg, or if you only want to treat one side, simply use the ice pack on the desired area. Full coverage helps reduce overall swelling and avoids the problem of having to shift ice around or put on two separate wraps just to get the treatment you need.
Meant for the Shin/Calf:
Specifically designed to fit the lower leg for the best healing results
, the contours of the Ice Sleeve mold perfectly to your body so it doesn't slip off or make you feel uncomfortable. Stays on even when you walk or move so you can carry on with your day without needing to sit on the couch while you ice! Made for calf sizes up to 18" inches to fit perfectly on either leg.
Unrestricted Movement: Do what you normally do while you ice! Meant for active individuals, this versatile calf wrap's low profile doesn't restrict your movement or get in the way of everyday activities, so you can keep doing you while getting the healing you need. Walk, work or get things done around the house so you don't have to waste time sitting around icing all the time. Put on and take off in mere seconds without struggling or fumbling with restrictive and complicated mechanisms.
Hot or Cold: Freeze the gel pack or put it in the microwave for a hot pack. Use the hot pack to reduce muscle tension and boost blood-flow for a soothing effect. TSA doesn't allow gel packs on planes, so you can swap the gel pack for the included ice pack and fill it with ice on-the-go! Your purchase includes 2 hot/cold packs and 4 bonus heavy duty reusable ice bags so you can keep icing wherever you are.