Don't forget an extra cold pack.
Get extra cold packs for frequent icing.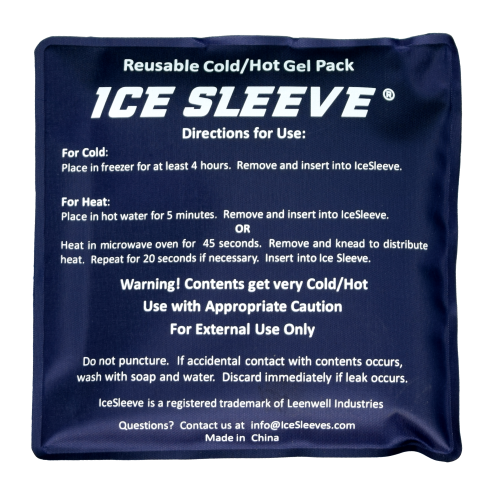 Sized specifically for the medium Knee sleeve.
Medium Knee Ice Wraps
Icesleeve
Medium Knee Ice Wraps
5

stars, based on

2

reviews
Target pain in the patella region with cold or heat therapy
Comfortable to wear
Stays in place while allowing full mobility
Use with real ice when traveling
Cold pack can be heated in microwave

The medium knee ice wrap is designed to provide soothing relief for knee pain in the patella region. The cold pack is 6"x6" to cover just the front of the knee. This cold therapy knee wrap is great for reducing swelling in the area on or just under the patella.
The ergonomic design is comfortable to wear and the wrap around design means that it will stay in place while you ice or heat your knee, even while walking. Gone are the days of sitting with an ice bag on your knee.
The knee ice sleeve comes with one cold pack and three heavy duty reusable ice bags. Ice bags are perfect for travel and outdoor events so you can ice your knees on the go.
The included cold pack can also be used for knee heat therapy, just place it in the microwave for a few seconds. The cold pack is formulated to stay flexible even when frozen.
This knee wrap will fit around any knee up to 16 inches.
Additional cold packs and ice bags are available separately.