Don't forget an extra cold pack.
Get extra cold packs for frequent icing.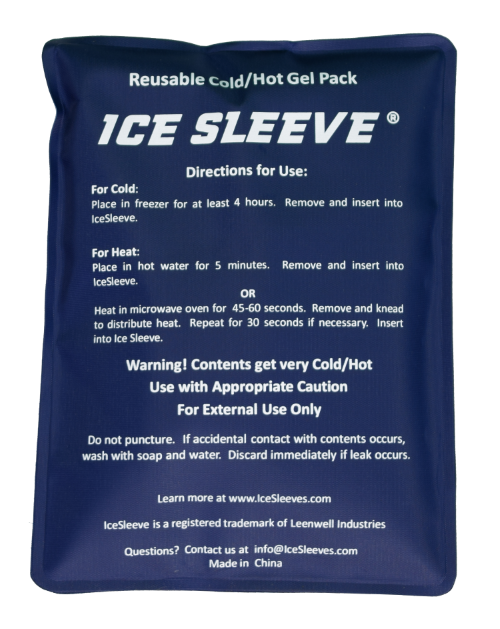 Sized specifically for the medium Shoulder sleeve.
Medium Shoulder Ice Wrap
Icesleeve
Medium Shoulder Ice Wrap
5

stars, based on

18

reviews
Fits up to 40" chest

Coverage area specifically targets rotator cuff tendons

Comes with 1 hot/cold pack and 3 reusable ice bags

Simple to put on with one hand
Low profile design allows total movement
Uses 6x8 cold pack

Rotator Cuff & Chronic Pain Relief: Are you suffering from a rotator cuff injury or chronic, nagging pain? The IceSleeve Medium Shoulder Ice Wrap was designed specifically to heal shoulder injuries and reduce pain and inflammation, while still being easy to put on and use in your everyday life.
1-Handed Usage:
Injured shoulder? You can put this convenient wrap on one-handed, and it goes on in seconds (watch the short video to see how easy it is). In fact, IceSleeve is the only wrap that can actually be put on with one hand! Plus, if you're a woman or younger athlete, this size is meant for you so it won't slide off or feel cumbersome.
Meant for the Shoulder
: Specifically designed to fit the shoulder for the best healing results, the contours of the IceSleeve mold seamlessly to your body so it doesn't slip off or make you feel uncomfortable. Made for chest sizes up to 40 inches to fit perfectly on either shoulder.
Unrestricted Movement:
Do what you normally do while you ice! Meant for active individuals, this versatile shoulder wrap's low profile doesn't restrict your movement or get in the way of everyday activities, so you can keep doing you while getting the healing you need.
Hot or Cold:
Freeze the gel pack or put it in the microwave for a hot pack. TSA doesn't allow gel packs on planes, so you can swap the gel pack for the included ice pack and fill it with ice on-the-go! Your purchase includes 3 bonus heavy duty reusable ice bags so you can keep icing wherever you are.