Don't forget an extra cold pack.
Get extra cold packs for frequent icing.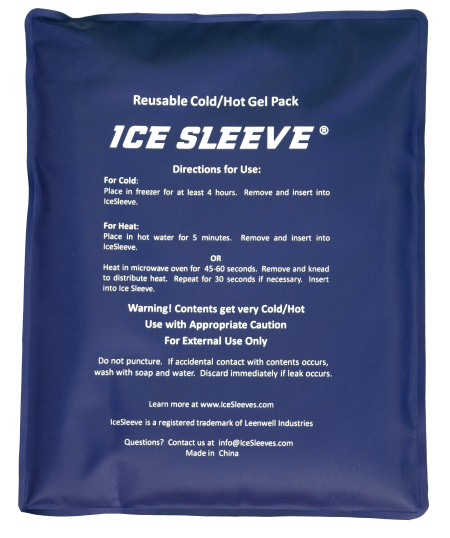 Sized specifically for the large shoulder sleeve.

Large Shoulder Ice Wrap
Icesleeve
Large Shoulder Ice Wrap
5

stars, based on

10

reviews
Rotator Cuff & Chronic Pain Relief: Are you suffering from a rotator cuff injury or chronic, nagging pain? The Ice Sleeve Large Shoulder Ice Wrap was designed specifically to heal shoulder injuries and reduce pain and inflammation, while still being easy to put on and use in your everyday life.
1-Handed Usage: Injured shoulder? You can put this convenient wrap on one-handed, and it goes on in seconds (watch the short video to see how easy it is). In fact, Ice Sleeve is the only wrap that can actually be put on with one hand!
Meant for the Shoulder: Specifically designed to fit the shoulder for the best healing results, the contours of the Ice Sleeve mold perfectly to your body so it doesn't slip off or make you feel uncomfortable. Made for chest sizes 38 to 50 inches to fit perfectly on either shoulder.
Unrestricted Movement: Do what you normally do while you ice! Meant for active individuals, this versatile shoulder wrap's low profile doesn't restrict your movement or get in the way of everyday activities, so you can keep doing you while getting the healing you need.
Hot or Cold: Freeze the gel pack or put it in the microwave for a hot pack. TSA doesn't allow gel packs on planes, so you can swap the gel pack for the included ice pack and fill it with ice on-the-go! Your purchase includes 3 bonus heavy duty reusable ice bags so you can keep icing wherever you are.
Brand:
IceSleeve
Shoulder pain can be bothersome, but when it starts to get in the way of your everyday life, it's time to find a solution. From rotator cuff injuries to everyday aches, get convenient pain relief and heal faster with the Ice Sleeve Large Shoulder Ice Wrap. Have trouble putting on traditional shoulder wraps? No problem! This wrap is designed to be put on easily using only one hand, and it goes on in seconds—watch the video to see how fast.
The low profile design doesn't restrict movement or get in the way of your usual activities.
Looking for heat therapy? Just throw the gel pack in the microwave and you have an instant hot pack. We even include 3 bonus reusable ice bags that can be filled with ice (or rice for hot packs) for backup relief.
Going somewhere on a plane? Bring the ice bags with you and fill them with ice so you don't have to worry about freezing gel packs on the road. Adding to the convenience, this shoulder ice pack is designed specifically for the shoulder and fits perfectly to the contours of your body, allowing for the greatest flexibility and comfort.
Made for active people, you won't feel restricted in your motions so you can get back to yard-work, sports, your job, and taking care of your family. Live the healthy, active life you deserve with the Ice Sleeve Large Shoulder Ice Wrap— don't let icing slow you down!

Comes with one 8x10" cold pack and three heavy duty reusable ice bags. Additional packs and bags available.